Shopify Salesforce integration is not the most straightforward process, but you can avoid some of the roadblocks you may encounter with the right guidance. The most common mistakes that stores encounter include:
Mistake #1: Reaching Out to Agencies for Integration
The first thing that many Shopify stores do to integrate their business with Salesforce is to let an agency do the work for them. While it's a lucrative option, this route still has its own set of challenges that usually come with a hefty price tag. For newer or smaller businesses just starting out, there may not be enough room in the budget for this option.
On top of the cost, the integration process tends to be slow, and the longer it takes for Shopify Salesforce integration, the longer they'll have to wait to enjoy its customer experience benefits.
Mistake #2: Running the Integration Through Custom Code
If they don't want to reach out to an agency, it's also common for ecommerce stores to ask their team of developers for a Salesforce Shopify integration. The most significant benefit of this strategy is that doing everything in-house will save plenty of costs compared to hiring an agency. However, if a custom developer leaves, it will create a single point of failure. As a result, their entire system could stop functioning and create friction down the line — it's going to be a headache trying to go back and fix the whole software.
Mistake #3: Choosing the Wrong Connector App
Many connector apps help sync between different software solutions, but most don't come with the functionality needed to support the complex aspects of Salesforce. They lack the ability to push real-time data and only do it through specified intervals. Also, workflows to and from Shopify events or other apps aren't always supported within the platform.
Why You Should Automate Your Shopify Salesforce Integration
So what's a better way to integrate Salesforce into your Shopify store and enhance your customer experience? The solution is to automate your Shopify store to Salesforce workflows. Here's why:
Focus On Work That Matters, Automate the Rest
Managing an ecommerce business on Shopify is a lot of work. Finding the time in your schedule to stay on top of customer data and understand which tactics are working best is a full-time job.
Automation allows you to reduce manual or repetitive tasks to focus on your most important tasks. It's going to boost your productivity and help your business get more done in less time. That way, you can still get the most out of Salesforce without sacrificing your schedule.
Connect Other Shopify Apps and Business Services Into Salesforce
As an ecommerce business, you're likely using a variety of Shopify apps and business tools to improve your store performance. That could be tools that enhance your email marketing, customer service, inventory management, and more.
The good news is that you don't have to give up on your existing tool stack during your Salesforce integration. With automation, you can get the best of everything by connecting all of your tools within Salesforce.
Single Source of Truth With Salesforce CRM
Thanks to automation, only one single source of truth is stored within your Salesforce CRM, allowing access to better business intelligence.
The result is that running data will always be accurate. You'll also be able to optimize the customer shopping experience at every touchpoint through custom audience segments that drive more purchases.
The Best Shopify Salesforce Integration: MESA
That said, you may wonder how to get started with automation during the Salesforce integration process. That's where MESA comes in; here's how the top-rated automation platform on Shopify makes integrating Shopify to Salesforce a breeze:
Use a No-Code Integration Builder
Not the most tech-savvy person out there? No problem. MESA comes with a no-code builder that makes it simple to build automation workflows from scratch with no prior coding knowledge.
If you don't know what workflows you want to create, that's not an issue with MESA's platform. MESA comes with ready-built templates you can use for the most common tasks on Salesforce to make the process even simpler.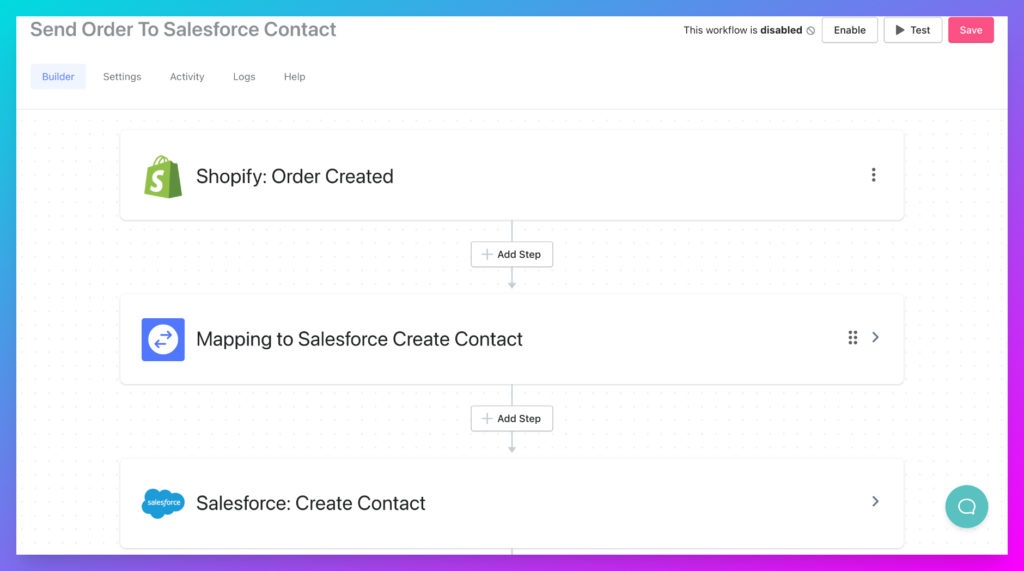 Easily Configure for Two-Way Integrations
A two-way integration consists of gathering data from two different platforms through their respective APIs. MESA eliminates the need for hiring an outside developer or agency to manage this for you.
All you have to do is install MESA on your store, and you can begin your ecommerce integration with Salesforce. It's going to save you from the headaches that come with the long process that typically comes with two-way integration.
Use Built-in Apps to Help Streamline Setup and Data Manipulation
With MESA, data manipulation and analysis have never been easier. You get access to countless workflows and built-in apps to manage various processes of data manipulation.
You have various built-in functionalities to choose from for your workflows. These include scheduling, emails, delays, customer code, and more.
Take Your Shopify Store to the Next Level With Shopify Salesforce Integration
Ecommerce integration with Salesforce is one of the smartest moves you can make. Its predictive business intelligence platform allows you to have a 360 view of your customer and personalize their shopping experience for repeat purchases.
By automating Salesforce, you can continue to get the most out of the platform by reducing manual or repetitive tasks and connecting them with other Shopify tools. Now is the time to boost your productivity and set up your business for success!
Master productivity instantly by automating any repeatable task or process with the ease of MESA's point-and-click setup. Our Customer Success team is available to help set up and configure any workflows so you can get more done today.
New Shopify Apps Weekly Newsletter
We watch for new apps then package them into an email sent every Tuesday.