The FTP connector allows you to download and upload files to a specified FTP server.
With Mesa, you can map the data to a format that Shopify or another system expects and pass it along to the next step. Sharing CSV files via FTP servers is a great choice to connect your fulfillment service, product manager, or other third-party system to Shopify.
With Mesa and the FTP connector together, you can upload or download important information to and from Shopify.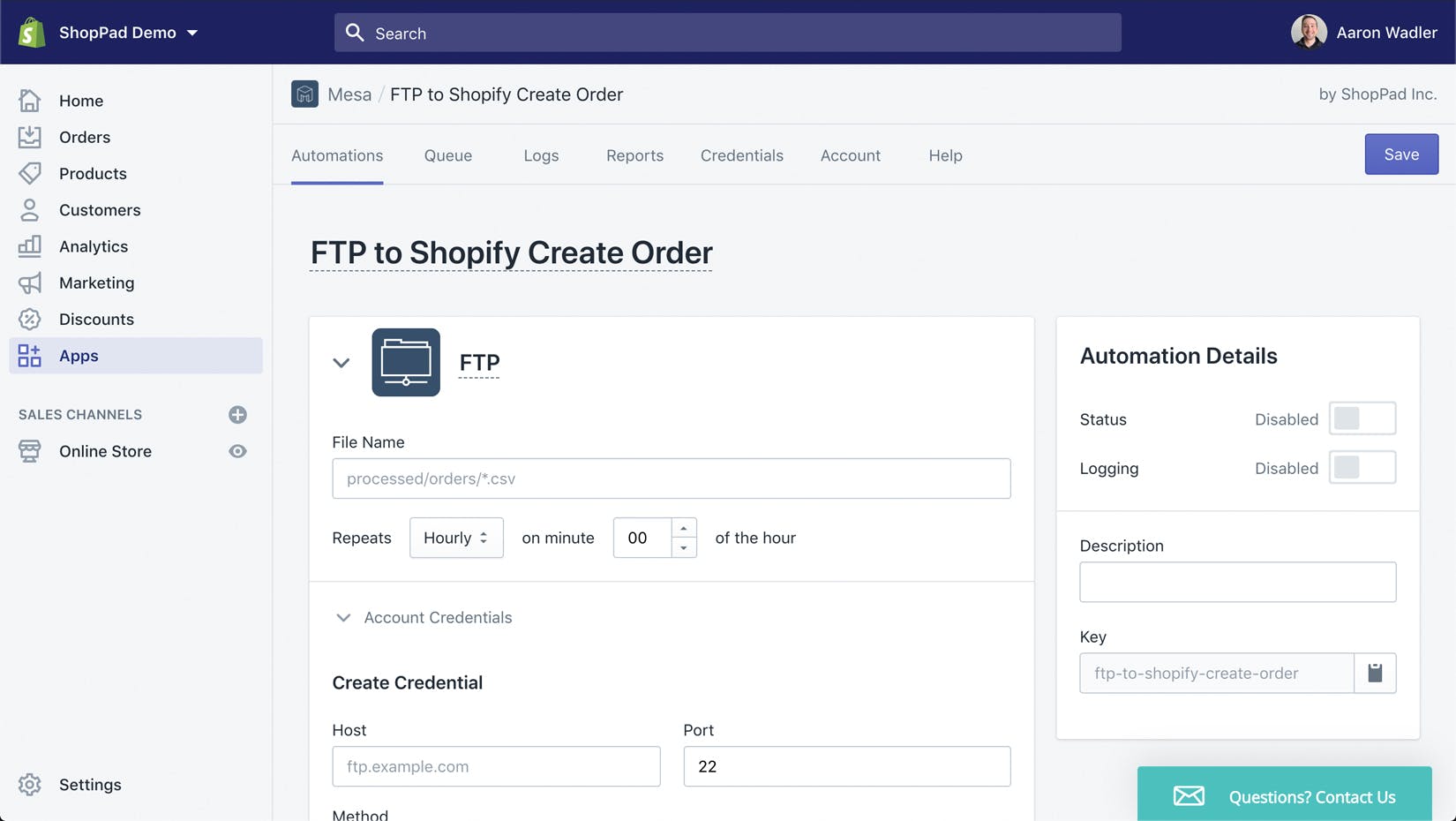 Scale faster by integrating workflows into your Shopify store
Learn more about FTP Integrations
Creative FTP Workflows
Create a CSV file with order data and send the file to your FTP when an order is created.

Sync your product's inventory data between Shopify and a third party service.

Send files to FTP and have those files reviewed by your team.
★★★★★ 5.0 Shopify App Store Rating
"Amazing service! They went out of their way to adjust the workflow to my needs."
"Highly recommend MESA if you need automated workflows."
"The customer service team is awesome and helped us set that up, free of charge. Great folks, great product!"
"MESA has been amazing and the customer service incredible!"
★★★★★
Charleston Tea Garden
"MESA is an incredible tool for automating various workflows and streamlining your business."
"The team is responsive, the functionality is comprehensive, and it is making a huge difference for our business."
"We had a PHENOMENAL experience with the MESA team, who tirelessly helped us adjust several of the MESA templates to meet our needs."
"The app is great to automate Shopify and Google sheets."
"This app is a must for anyone wanting to automate using outside programs. It's like magic. Also, the customer service has been top notch."
"Game changer. We have several Shopify stores and MESA's powerful automation frees us from monitoring the order statuses all the time."
"MESA customer support was amazing. They helped me get the automation up and running in a few hours. Thank you MESA for saving us time and money!"
"MESA is great and the support matches that. I'm no developer, but their team is quick to jump in and answer any questions that I have. I can't recommend them enough!"
"Very good app and support team. They always find a way to make it work for us."
"Easy to set up flows and if you don't know exactly how their customer service is unbelievable. They reply within minutes and provide real solutions. 5-Star App for sure!"
"MESA is a powerful app that can do a LOT of thing. What sets the app apart is the level of service we received from their team."
"This app solves our exact need. Moreover, can't say enough great things about team! Never worked with a better support team! 6 stars"
"I can't say enough good about MESA and their support staff in helping us get up and running with some super-efficient workflows to help us streamline and automate processes."
"The support team is incredible! They always worked hard to come up with solutions for the problems we were trying to solve through MESA."
"This is an exceptional app with a stellar customer support team."
"MESA has been such a time saver and so easy to use!"
★★★★★
Charleston Tea Garden