Mesa is an automation platform for retailers on Shopify. You can create new experiences for customers and better manage back-office tasks. For example, using the built-in Forms app, you can capture return requests and route the customer's information to notify staff.
This article shows you how to do just that. Install Mesa on your Shopify store to start your 14-day free trial. Contact us for any help getting this workflow setup!
###
This tutorial will show how to start a return in Shopify using Forms by Mesa in just a few quick steps. We'll set up a form to add on your tracking page or a customer's Order History page.
Start with this workflow template:
Click on the first step in the template, Form.
You can customize the pre-built form provided, or just copy the HTML code from the Open Form Builder builder, to use on any page on your website.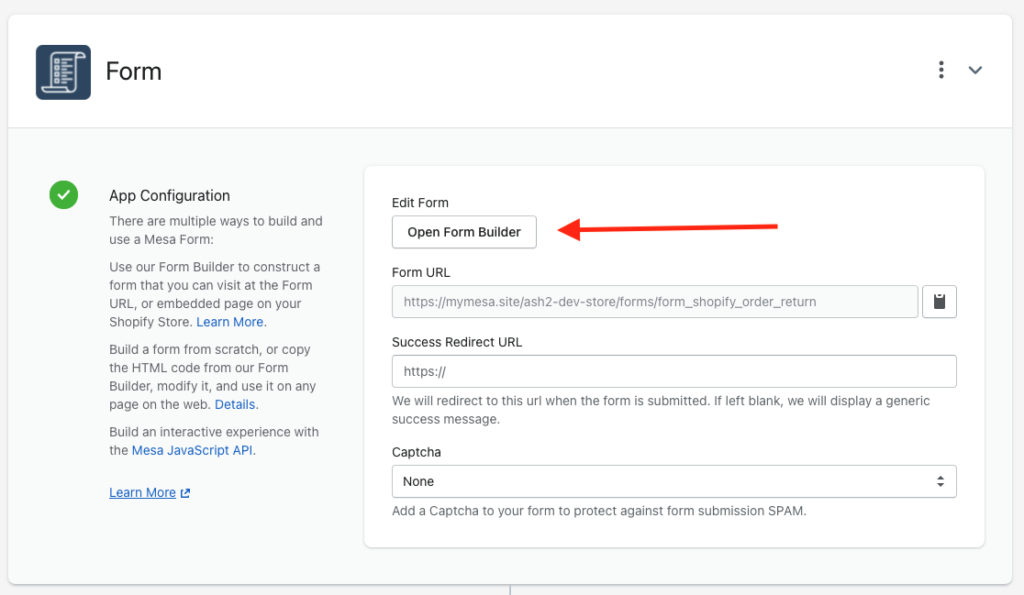 The pre-build form is setup to capture the following customer details:
Order ID
Reason for Return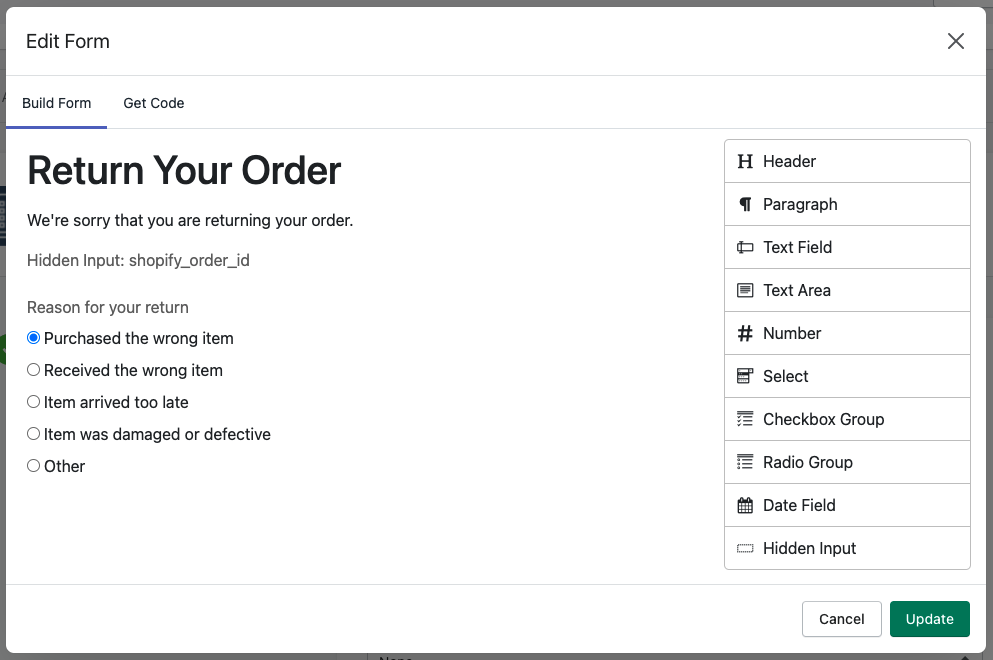 Once your form is set up, click the Get Code tab and click the Copy all code button on the bottom left.

3. Next, paste the Form code into a page on your store which requires the customer to be logged in and also has order details. This will allow the Form code to capture the Customer ID and Order ID as hidden form fields.
For this example, we'll place it on the customer order pages.
Underneath your Sales Channels in the left column, click Online Store, select your Current Theme, then click Edit Code in the Actions drop-down menu.
Under Templates click customers/order.liquid and paste your Form code anywhere you'd like it to appear on the page.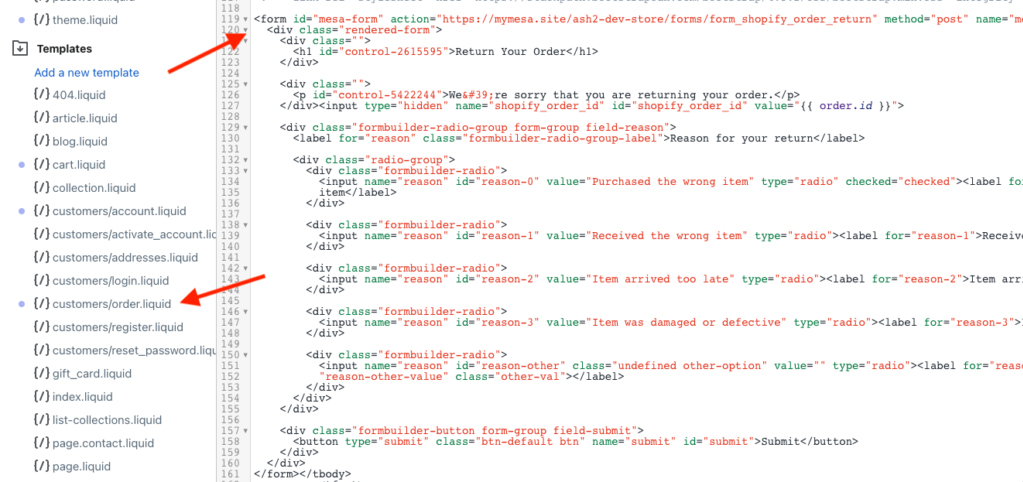 Your form will look something like this on your customer account pages. Don't forget to click the Save button in the upper right corner.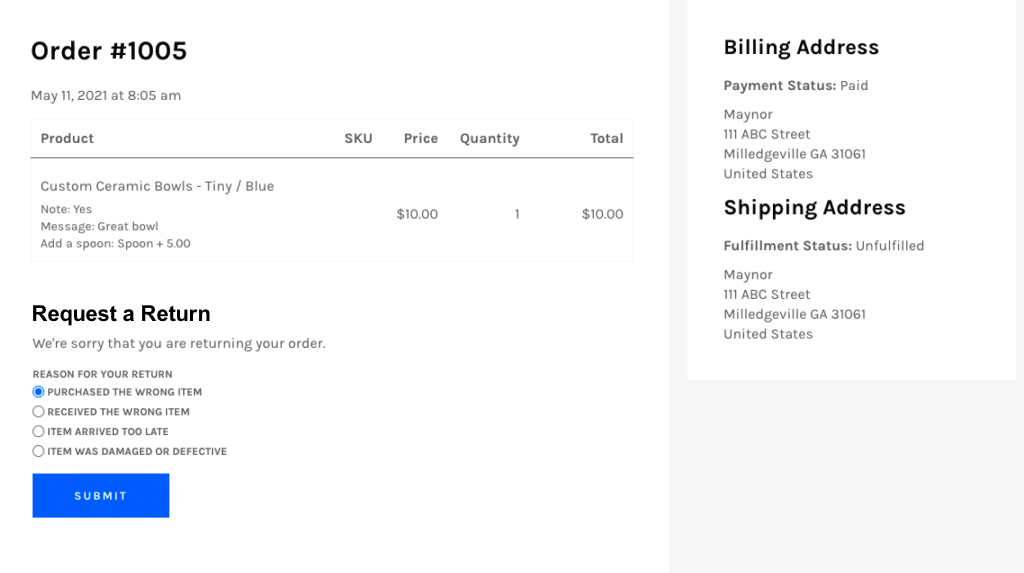 4. Navigate back to your workflow in the Mesa Dashboard and click the next step, Shopify Retrieve Order. Your store's credentials should already be populated and Shopify App Configuration populated with the correct token.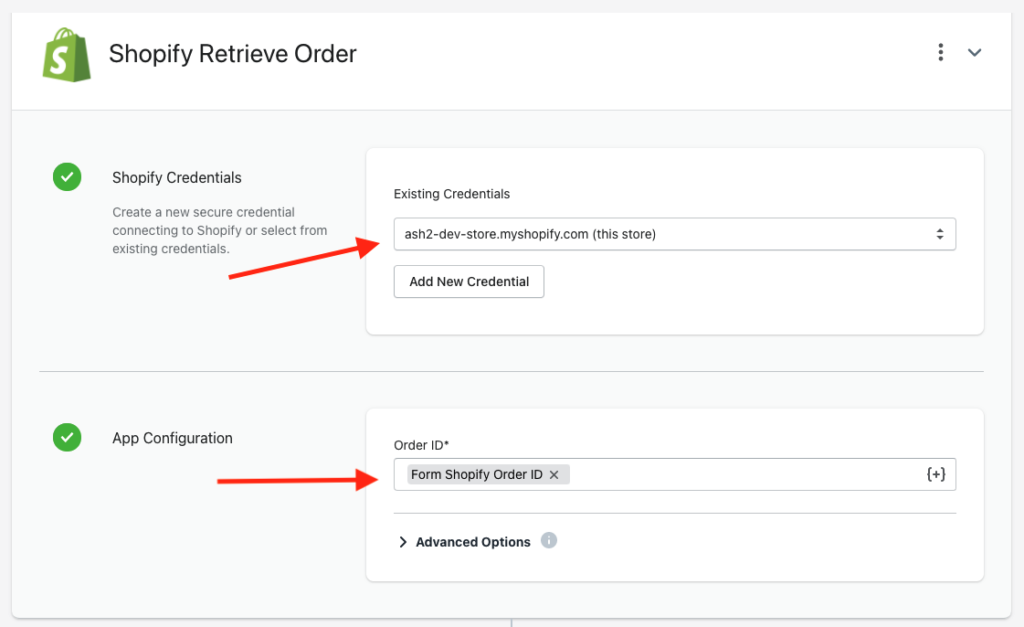 5. You're now ready to receive Return Order requests, so what's next?
How can you effectively track these types of requests?
In the next step, we'll show you how to add A row to any Google Sheet of your choosing. You'll need to add your Existing Credentials from the drop-down menu and also assign which spreadsheet you'd like to populate.
Note: If you don't have an existing Google Sheets credential, you'll need to create one.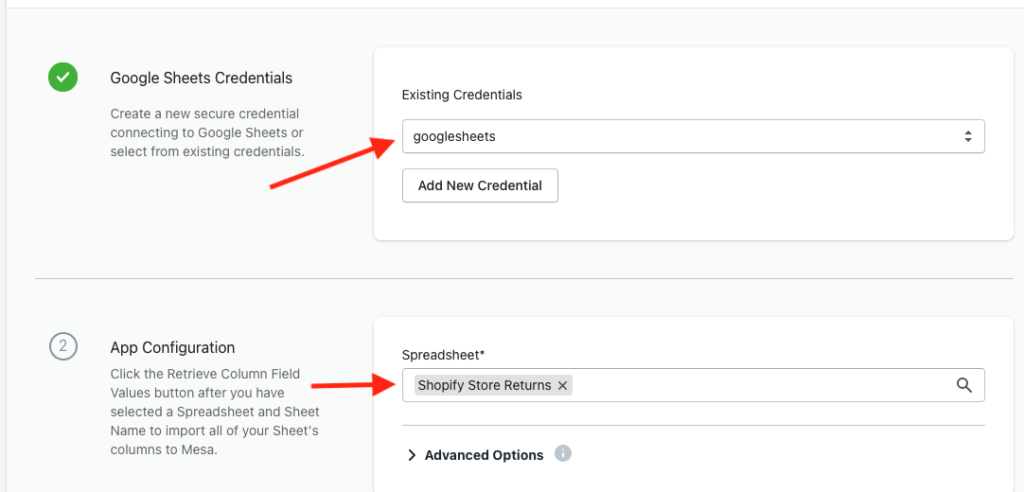 Below the Google Sheet App Configuration, you'll also see where the Return Order form is mapping to on your Google Sheet.

6. Let's extend things further and use Mesa to notify your customers via Mesa's premium built-in app, Email by Mesa.
In this step, the recipient's email address from Shopify is retrieved with their order name. You also have the ability to tailor a customer message in the body of the email.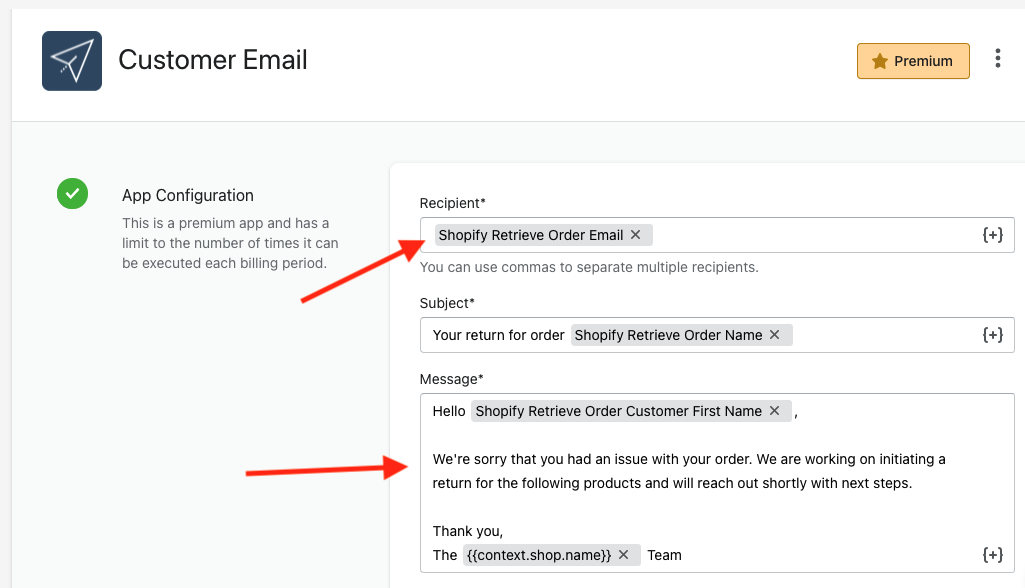 You could also Slack a message to your team with these details.
First, you'll need to add a new Slack App and then create an incoming webhook URL. You'll then need to copy the webhook URL from your Slack app and paste it back into the Slack step in the Mesa workflow. Click the green Add Credential button.
Note: If you don't have an existing Slack credential, you'll need to create one.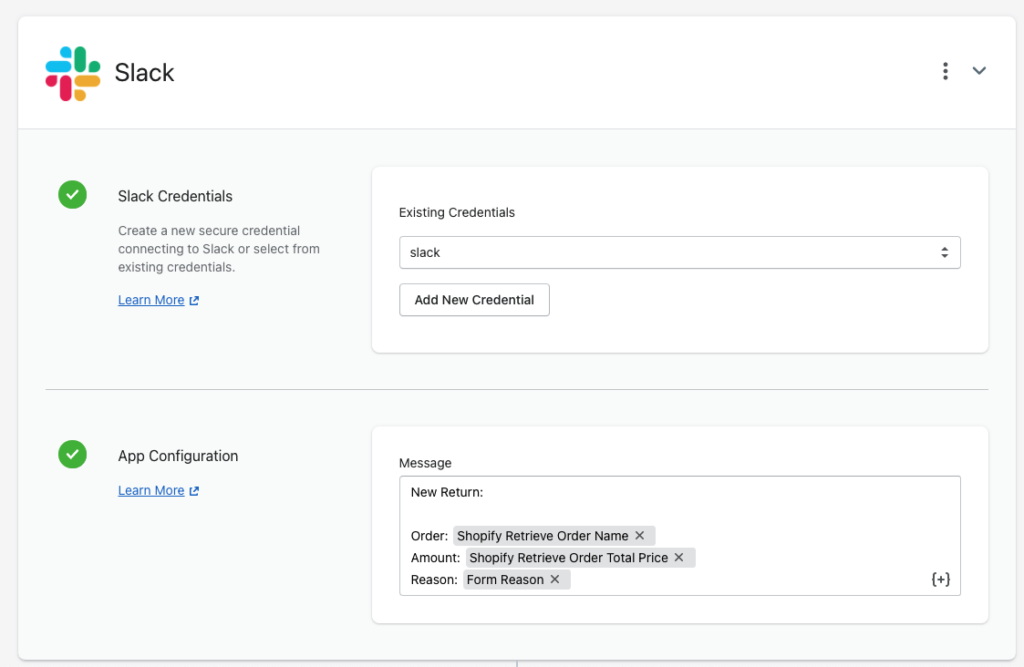 Last Step: The most important
7. Once complete, scroll back up to the top of the page and click the Enable button in the top right-hand corner.
Workflow Wrap Up
Now you're ready to start a return with Forms by Mesa, with some commonly used examples to try out. Every step in the workflow is 100% customizable. Change an event, add a step before/after or adjust the default settings. With Mesa, anything is possible!
Contact our team of automation experts if you need help getting started; tailor any template to meet your business needs.
Want to learn more? Here are some other popular workflow templates from our free Mesa library:
Master productivity instantly by automating any repeatable task or process with the ease of Mesa's point-and-click setup. Our Customer Success team is here 24/7 to help set up and configure any workflows so you can get more done today.
Simplify the workload to manage your Shopify store in 2022
★★★★★
Get the playbook to help you get started with automation. See how other successful merchants found a better way to work →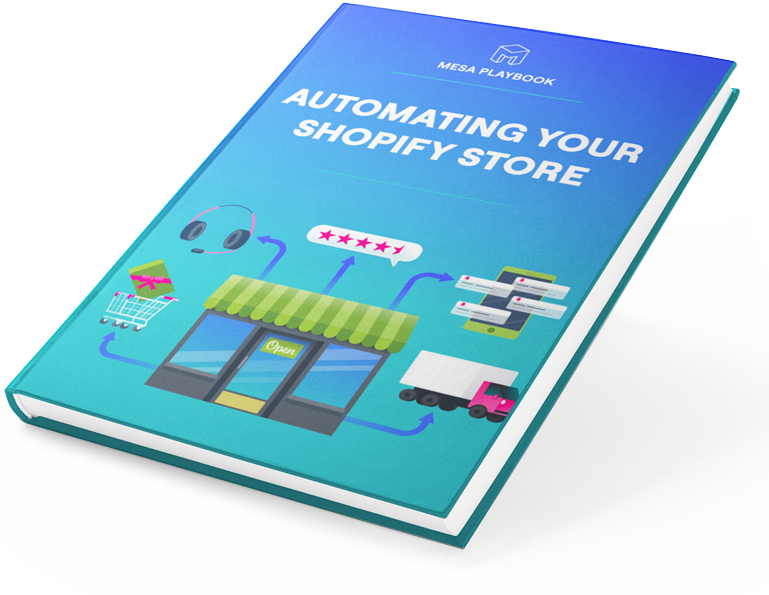 New Shopify Apps Weekly Newsletter
We watch for new apps then package them into an email sent every Tuesday.

Yopto
Marketing

Shopify
Commerce

Segment
Productivity

Infinite Options
Productivity

Slack
Productivity

Etsy
Commerce

Discord
Productivity

Bold Commerce
Commerce

Tiktok
Marketing

Airtable
Productivity